Helping you serve your customers and patients better is always our primary objective at Wilkins Linen. We work hard to improve our processes, efficiency, and quality of products and service. Offering free pick-up and delivery, high-quality linens, and premium service, we have you in mind every step of the way. And we've just made something really good even better with new additions to our truck fleet. This improves your experience in several ways.
A Better Process for Wilkins Linens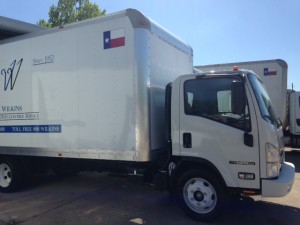 At Wilkins Linen, we understand you need reliable linen services for pickup and delivery. To that end, we maintain a quality fleet of vehicles to serve you best. Our three most recent trucks are a 26 ft Freightliner, a 16 ft Chevy 4500, and a 20 ft Isuzu. The Freightliner is our largest truck and features side door access and a lift gate.  Consider the following ways the fleet expansion impacts our process:
1) Larger capacity
More trucks mean we can handle more orders. A larger truck means we can handle bigger deliveries.
2) More fuel efficient
Having a larger truck in our fleet means we can fit more product in each trip, lowering the need for additional trips or additional trucks. This saves gas and money. Newer trucks are also more fuel efficient than older ones.
3) Larger items
Not only can we fit more product on the Freightliner, we can also fit larger items and orders.
4) Better overall efficiency
Keeping a fleet of nice-looking, well-maintained trucks improves our overall efficiency.  Having a larger truck in our fleet allows us to load fewer trucks which saves additional time.
A Better Experience for You
All of this translates to a better experience for you. At Wilkins Linen, we are always thinking of ways to increase the value of our products and services. You need a linen company that is reliable and offers the highest quality services. Read on to learn how this truck will impact your linen services.
1) Faster delivery
Wilkins prides itself on on-time delivery and quick pick-up. More and newer trucks make us even faster. We take every measure to ensure you get your product when expected and your soiled laundry doesn't pile up.
2) Larger orders
Our larger truck means we can handle your larger orders more efficiently.
3) More efficient
We are always looking for ways to make more efficient use of time so we can provide you with even better service.
4) Better looking fleet
Impressions go a long way in business, so we maintain the best quality fleet of vehicles to serve you. We keep them in the best working condition with a well-maintained outer appearance.
Wilkins says Thank You
Wilkins Linen continues to expand not only our fleet of trucks but our customer base as well. We welcome our 30 newest clients who have joined the Wilkins' family already in 2017. We appreciate all of you and every one of our existing clients for your business and trust. Wilkins Linen continues to improve our products and services for you in 2017 and beyond. Contact Us for more information on how linen services could benefit you.