IV gowns, also known as intravenous therapy gowns, are specialized garments designed for patients undergoing intravenous therapy. Wilkins gowns utilize soft, breathable fabric, allowing for easy access to the patient's arms and chest for administering medication or drawing blood. We extend quality care through the warm embrace patients crave during times of uncertainty.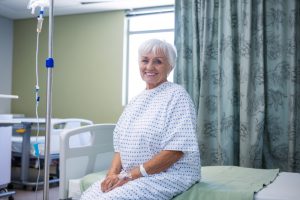 Something for Everyone
Hospitals and private facilities see an influx of patients throughout the day, and not one patient is the same as the next. Wilkins empowers you with a catalog that accommodates unique requests with different styles and sizes. We strive to infuse a level of quality as close to an extension of the home as possible.  
Durability
Wilkins Linen IV gowns are as durable as they are comfortable. Made from absorbent, high-quality materials that withstand the ebbs and flows of a grueling day in medicine, our gowns are designed to be easy to clean and maintain, making them ideal for use in a healthcare environment.
Comfort
Several studies have shown how profound the benefits of comfort are in accelerating patient recovery. Medical facilities are often cold and impersonal. Taking the extra step to convey your care in ways more powerful than words is an invaluable element to comprehensively outstanding service. Wilkins IV gowns feature soft, breathable fabric that is gentle on the skin, keeping the patient comfortable during treatment. 
Safety
Patients can't enjoy the benefits of comfort and durability without the reinforcements of industry-leading safety. Wilkins Linen understands how important preservation is at every step in the chain of care. That's why we sport snaps and ties that easily adjust to ensure a secure fit, preventing the gown from shifting or coming undone during treatment.
Call Wilkins Linen Today!
Wilkins Linen IV gowns are a great choice for high-quality, comfortable, and functional gowns for intravenous therapy. With their durability, comfort, and safety features, they provide patients with the support they need during treatment while also giving them the freedom to move around comfortably. Contact us at 1-866-945-5467, or email us to learn more about our products and services.