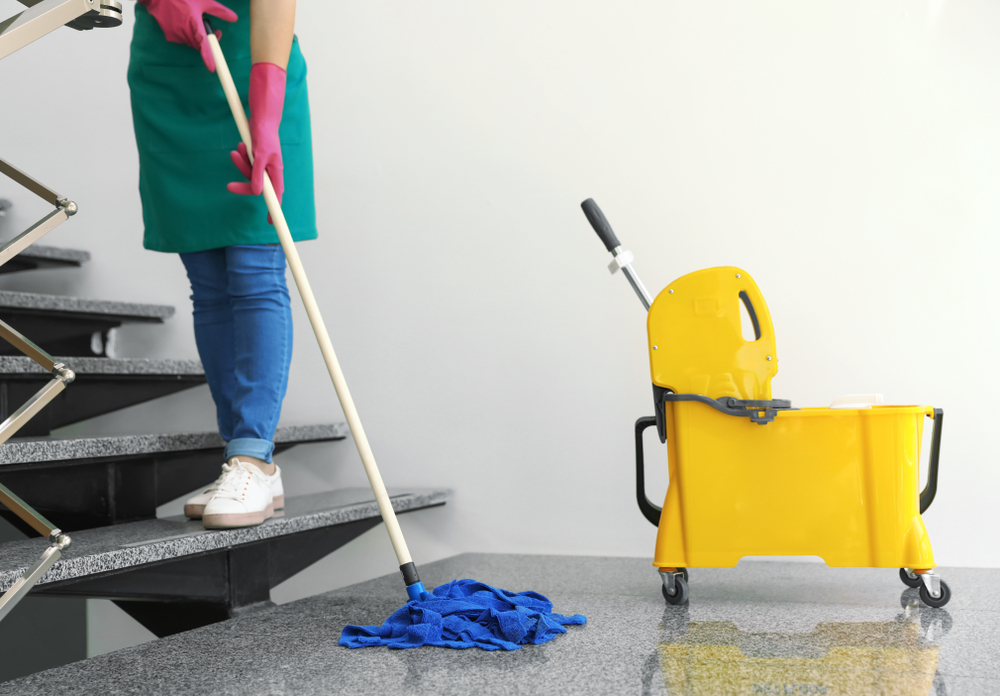 It takes at least 15 minutes to pre-soak a single dirty mop head and another 15 to disinfect and wash. And then some more for drying and storage. Between running your business and keeping your customers happy, do you really have time to make sure you are using clean mops on your floors? Give yourself a break without compromising quality and hygiene. Get professional mop rental service from Wilkins! 
Wilkins Linen and Dust Control Service is a leading provider of facilities management products including high quality floor mops.
High Quality Mops for Your Business
Wilkins specializes in professional dust control services for commercial spaces. We have a complete selection of floor mops for all of your cleaning needs:
Dust Mops. Our dust mops are made of durable material that is ideal for use in large, busy business spaces. No amount of foot traffic is tougher than the cleaning power of Wilkins' selection of dust mop heads.
Wet Mops. For tougher dirt and grime, Wilkins has high-quality wet mops. These specialized mops feature high absorbency qualities that are efficient in cleaning up spills.
Flat Microfiber Mops. For cleaning needs where regular mops just won't do, Wilkins offers flat microfiber mops. Microfiber mops are ideal for difficult and delicate cleaning situations and are the preferred choice in disinfecting sterile areas like surgery rooms and other medical environments.
Wilkins Linen and Dust Control Services is Here for you!
Wilkins Linen and Dust Control Services specializes in delivering efficiency. We have developed a system designed to give you maximum results for minimum effort. This is exactly what you can expect from our commercial mop rental services!
Our services come with the assurance of excellent product selection, professional cleaning services for your mop heads, and regular, on-time delivery of products to make sure you can carry out your cleaning procedures without delay.
If your business needs mops, you need a mop rental service from Wilkins!.
Contact Wilkins Linen and Dust Control Service today for inquiries or to request a price quote for the services you are interested in. Call 1(866) WILKINS or send your inquiries via email to info@wilkinslinen.com and our service team will get right back to you.