Medical facilities need the best tools available to maintain optimal cleanliness for their patients and staff alike. Floor care and dust control are integral parts of this facility cleaning process and our microfiber flat mops are the solution you need!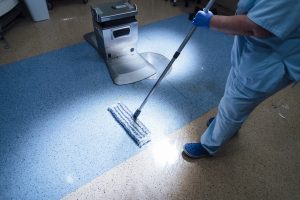 Find the Microfiber Flat Mops Your Medical Practice Needs from Wilkins Linen and Dust Control
Since 1952, Wilkins Linen and Dust Control has provided medical practices in Texas with reliable microfiber flat mops. Our mops are a great fit for the healthcare industry because they are:
Long-Lasting
Cleaning is a tedious process and could use the benefit of equipment working as intended for extended periods of time. That's why Wilkins provides microfiber flat mops that have long useful lifespans. They use durable materials that withstand heavy usage and make cleaning easier and quicker than standard mops.
Comfortable to Use
Mopping can be a physically taxing job when going at it for long periods. With this and our mops' useful lifespans in mind, Wilkins has our clients covered! We provide mops with ergonomic designs and materials that are comfortable to handle, especially over time.
Well-Maintained
In order to maintain each mops' lifespan and comfortable design, we take care of them ourselves. Our route service representatives pick up used mops and replace them with new or freshly cleaned and repaired ones. They take inventory upon every visit and ensure our clients have reliable mops on-hand while our team of experts handles mop head replacement, cleaning, and more!
Contact Wilkins Linen and Dust Control for More Information!
Wilkins Linen and Dust Control is Texas's leading provider of microfiber flat mops. Our 7 decades of service combined with our reputation for family-owned and operated quality are the assurance you need! Sign up today and dial 1-866-945-5467 to speak with a member of our team who will answer any questions you may have. Interested in a free quote or more information on our other products and services? Click here!