Clean floors in healthcare facilities are essential to the safety and health of patients and employees. A professionally-sourced and maintained dust mop supply will ensure employees have the tools necessary to keep floors clean. Wilkins Linen provides and maintains professional-grade dust mops ready to assist healthcare facilities in all their floor care needs.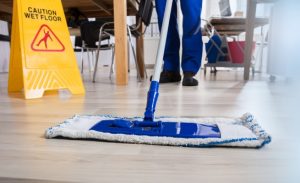 Why Dust Mops Through Wilkins are Ideal for Healthcare Facilities
Between the cleanliness with which they arrive and their constructed quality, dust mop service through Wilkins is ideal for your staff's janitorial efforts. Our dust mop service ensures:
Reliable Quality
We only offer dust mops that have passed our high standards. This means they have long useful lifespans. Wilkins mops will maintain their shape and ability to attract dust over many uses, saving your facility money in the long run. They also have less lint than standard dust mops. Lower linting means fewer issues with clogged vacuum cleaners and less dust kicked up into the air. This reduces respiratory risks for patients with allergies or other sensitivities.
Easy Handling
Maintaining cleanliness is important, and ease of use is crucial in a busy healthcare facility. Our mops are designed for employee efficiency and comfort while in use. With our help, you'll never have to worry about them falling apart or not being able to reach those pesky dust bunnies in the corners. Our mops are made of high-quality materials and construction that will stand up to regular use. We also offer a variety of sizes to fit any space, and our mops have absorbent pads that attract and hold dust, dirt, and hair.
Consistent Cleanliness and Availability
In addition to our dust mops' reliable quality and easy handling, they also always arrive clean and ready to use. We launder the mops after each use and recycle the used pads. This ensures that the dust mops are clean and ready for their next use, which saves your staff time and effort.
Contact Wilkins Linen For Healthcare Dust Mop Service Today
A clean healthcare facility is a safe and healthy facility. Dust mops from Wilkins Linen can help you achieve and maintain a high level of cleanliness. Contact us at 1-866-WILKINS today or fill out this form to learn more about our dust mop service.