Health facilities are often cold and impersonal spaces. Feelings of isolation and fear are inevitable with the uncertainty of awaiting test results, diagnoses, and beyond. That's why a comprehensively outstanding service, from treatments, upholding hygienic standards, and bedside manner are equally as important. With children, the execution of all three and beyond is needed to bring an experience that puts them and their families at ease. Small gestures have a subtle but profound impact. We go the extra mile to craft child gowns with love and care expressed through every thread.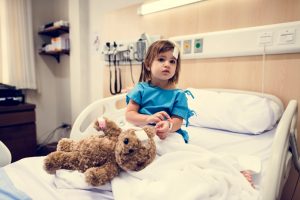 Comfort 
Wilkins Linen specializes in high-quality patient gowns. Our child gowns bring the warm embrace and personal touch that children need in times of uncertainty. Health facilities aren't synonymous with home, but we strive to turn our service into one as close to an extension of the home as possible. We utilize soft, breathable fabric that is gentle on the skin and designed for ease of use with simple snap closures that promote easy access for procedures or diaper changes. They are easy to clean and maintain, with machine-washable fabric resistant to stains and wear.
Adaptability
Wilkins child gowns are as versatile as they are comfortable. They are suitable for use in several settings, including hospitals, clinics, and at home. They are ideal for medical procedures, as they maintain a sense of modesty and privacy. Thick and insulating fabric keeps their children comfortable and warm during the colder months.
Personal Flair 
In addition to their practicality, Wilkins child gowns are fun and colorful. They cover a broad spectrum of colors and patterns that appeal to children of all ages. From bright and cheerful prints to more subtle ones, our child gowns encourage individuality. 
Full Service
Streamlined deliveries, advanced inventory tracking systems, industrial cleaning, repair/replacement programs, and a tireless customer support team back our world-class child gowns. Ensure peace of mind for your valued patients by providing your employees with the quality threads they need to bring their best for their guests.
Call Wilkins Linen Today!
Wilkins Linen's child gowns are a top-quality choice for families looking for the best of comfort, style, and functionality. Call us at 1-866-945-5467, or email us to learn more about our products and services.