Wilkins Linen produces high-quality side tie gowns for healthcare facilities. We craft our gowns to be comfortable and convenient while also being durable and easy to maintain for healthcare staff.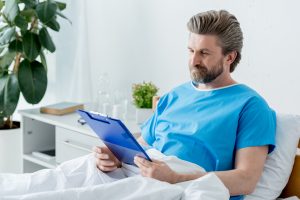 Why Wilkins Linen?
Outfitting your patients with high-quality linens that extend a warm embrace reminiscent of the comforts of home is essential to facilitate a comprehensively first-class experience to accelerate recovery. Wilkins goes the extra mile to ensure that your staff and valued guests enjoy the best of comfort and function because no stone should be left unturned when caring for your valued guests in their most vulnerable times.   
Sparing No Expense on Comfort
Wilkins Linen side tie gowns are soft, comfortable, and gentle on sensitive skin. They're designed to be easy to put on and take off, with a design that allows medical staff to access patients while preserving their dignity. In addition to being comfortable and convenient for patients, Wilkins patient gowns are also highly practical for healthcare staff. They sport durable fabric that's easy to clean and maintain. They also withstand the rigors of daily use typical of a day in healthcare. This makes them an excellent choice for hospitals, clinics, and other establishments looking to raise the bar in full service. 
Tailored to You
Side tie gowns, like the rest of our top-tier catalog, are designed to suit your needs. Wilkins Linen offers a range of styles, including full-length gowns, short gowns, and bariatric gowns, to accommodate any request. 
Healthy Planet, Healthy Patient 
We use eco-friendly techniques during production because quality should never come at the expense of a healthy planet. Wilkins side tie gowns are the #1 option for healthcare facilities looking to reduce their carbon footprint and lead the charge in cutting-edge conservation practices.
Full Service
Our service doesn't end with a first-class catalog of products unmatched by competitors in our industry. Streamlined deliveries, advanced inventory management systems, industrial laundering, repairs/replacements, and a dedicated customer service team round out a quality experience from top to bottom.
Call Wilkins Linen Today!
Wilkins Linen patient gowns are a high-quality, reliable choice for healthcare facilities looking for comfortable, convenient, and practical patient gowns. Contact us at 1-866-945-5467, or email to learn more about our products and services.